Faceless by Vanda Symon, a fast-paced edge-of-the-seat thriller where an unlikely hero must face one near impossible situation after another to save a young woman. Best started early in the day because you won't want to put it down.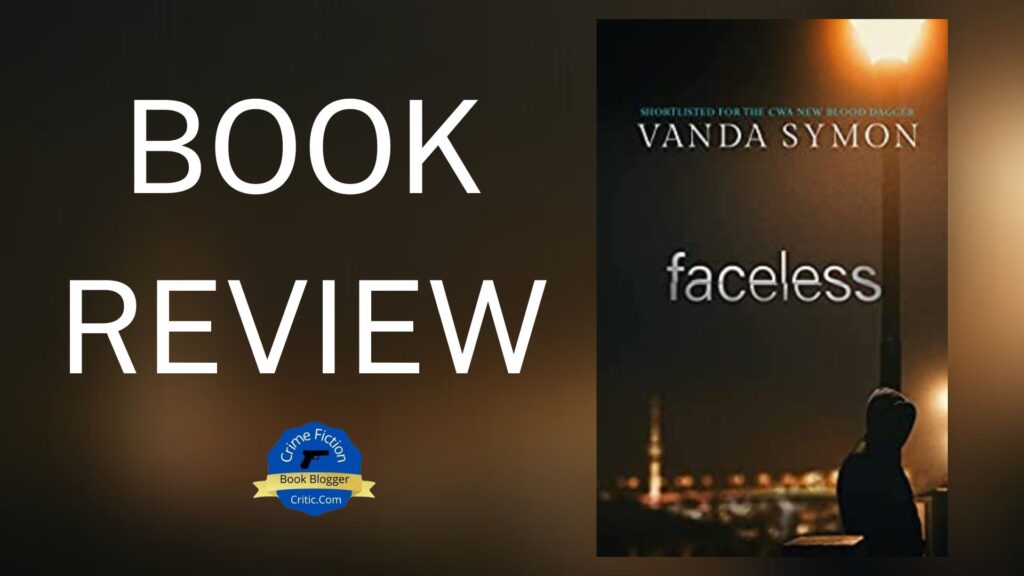 Faceless is a stand-alone thriller by New Zealand author Vanda Symon, best known for her excellent Sam Shephard series is quite a departure from her usual crime fiction writing. But in all honesty, as much as I adore the Sam Shephard character and the series, this is my favorite Vanda Symon book because it truly shows her versatile and strong story-telling abilities and illustrates her impressive attention to detail. Here, Symon's writing is stunning, though this one is not for the squeamish, and her character development and story arc are perfectly paced. With short impactful chapters that shift back and forth between the points of view of all the major characters, she creates in the reader a powerful sense of dread and urgency that feels almost unbearable at times, in this story about the search for a missing eighteen-year-old street girl.
Faceless
by Vanda Symon
Published by: Orenda Books
on August 01, 2022
Source: Purchased
ISBN 9781914585043 (Paperback)
Genre(s) Thrillers & Suspense
276 pages

Worn down by a job he hates, and a stressful family life, middle-aged, middle-class Bradley picks up a teenage escort and commits an unspeakable crime. Now she's tied up in his warehouse, and he doesn't know what to do.

Max is homeless, eating from rubbish bins, sleeping rough and barely existing – known for cadging a cigarette from anyone passing, and occasionally even the footpath. Nobody really sees Max, but he has one friend, and she's gone missing.

In order to find her, Max is going to have to call on some people from his past, and reopen wounds that have remained unhealed for a very long time, and the clock is ticking…

Hard-hitting, fast-paced and immensely thought-provoking, Faceless – the startling new standalone thriller from New Zealand's 'Queen of Crime' – will leave you breathless.
The book opens with Billy, an eighteen-year-old girl living rough on the streets of Auckland, putting the finishing touches on her latest street art masterpiece. But she's run out of spray paint before finishing. As has become her habit, she resigns herself to turning some tricks to get money for more paint and the other things she needs to survive. We'll learn later the circumstances that put Billy on the streets alone, which makes her story all the more heartrending. After arriving at her usual corner, a middle-aged man named Bradley, we meet in the second chapter, picks her up. Billy doesn't know it when she gets into the car with him, but she has just made the worst mistake of her life. For Bradley, life's demands have become so physically and emotionally overwhelming that he is barely capable of functioning in day-to-day life. Desperate to relieve the stress he is feeling, he decided to pick up a prostitute. Billy directs him to an alley behind a closed business where she plies her trade. But once he's picked up Billy, he doesn't quite know how to proceed. Eventually, they agree on oral sex and Billy, in businesslike fashion, attempts to get things over with as fast as possible. But because of the stress and his nervousness, Bradley can't quite rise to the occasion. When he sees Billy smirk at his performance anxiety, it's one insult too many atop all those already heaped upon his fragile emotional state by his boss at work and his wife at home. He strikes out, punching Billy in the face and knocking her unconscious. Later she awakens bound to metal pipe with plastic ties inside a darkened, abandoned warehouse. And there her nightmare begins in earnest. Bradley, panicked by the assault, had abducted her and taken her captive while he tried to sort the mess that he had created for himself. Billy fears Bradley intends to kill her. Estranged from her parents and with no one else in her life that cares about her, she pins her thin hopes of rescue on another street dweller, a derelict named Max. Billy and Max have befriended each other and watch each other's backs. He is the only person who will notice she is missing and thus the only one who might look for her. And when we meet Max, we realize just how thin Billy's hopes are. We get a sense as we learn more about Max that something horrific occurred in his life that drove him from perhaps some respectable life to living rough on the street and living on whatever he scrounges from refuse bins. And he does indeed immediately suspect something is amiss when Billy doesn't return to the alley one night that they both call home. And despite who he is, what he is, and how little he brings to the task, Max begins a crusade to find his friend Billy. Unfortunately, the remorse that Bradley felt when he first assaulted and confined Billy in an abandoned out of the way building he owns quickly fades. Seeing the fear in Billy's eyes he provokes gives him a strange sense of power and control he hasn't felt in ages. He goes on to discover that abusing the helpless young woman magnifies those feelings even more and relieves his pent-up stress. He intends to hold Billy indefinitely in his makeshift prison. But when Max's efforts finally bear fruit and Bradley receives a visit at home from the police, he realizes he must get rid of Billy permanently before the cops find him out. As Max continues his fanatical search for Billy and Bradley grows more desperate to rid himself of the young woman who could send him to prison, the tension rises to unbearable proportions. Will our unlikely hero find Billy before it's too late, or are we watching the proverbial slow motion car crash happening, where our greatest fears get realized? This is not a book for the squeamish, but it's crack for thriller junkies. If you've never read Vanda Symon, Faceless isn't a bad place to start. It's a fast-paced edge-of-the-seat thriller where an unlikely hero must face one near impossible situation after another to save a young woman. Best started early in the day because you won't want to put it down.