An extra dark slice of Los Angeles describes Blue Like Me by Aaron Philip Clark. It's a gripping and intense crime thriller, and a completely unnuanced hard-boiled parable on policing and corrupt cops.
Blue Like Me by Aaron Philip Clark is the second in the series featuring private investigator Trevor Finnegan, but the first I've read. When the publicist for Thomas & Mercer offered me an advanced copy for review, I accepted because I never turn down cop or private investigator novels set in Los Angeles. And after reading this one, I definitely plan to read the first book in the series.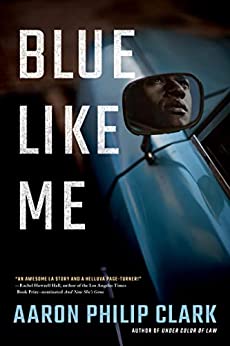 BLUE LIKE ME
Series: Trevor Finnegan #2
Published by Thomas & Mercer
on November 08, 2022
Genre(s) Crime Thriller, Hard-Boiled Crime
ISBN 9781542039697
255 pages
A brutal homicide sets an ex-cop and his former partner on the hunt for an enigmatic killer in a gripping thriller by the author of Under Color of Law.

When former detective Trevor "Finn" Finnegan became a PI, he adopted a new mandate: catch the LAPD's worst in the act. While on surveillance in Venice Beach, Finn tails two potentially dirty cops: Detective Martin Riley and Finn's ex-partner, Detective Sally Munoz. Things take a deadly turn when an unknown assailant executes Riley and wounds Munoz. In an instant, Finn goes from private eye to eyewitness.

Munoz needs Finn to help find Riley's killer, but doing so could blow his cover. She's an officer shaded by rumors. Maybe she's still a good cop―but maybe she's not. Finn's reluctance ends when his dear "uncle," an ex-LAPD detective, is murdered, and it might be connected to Riley's death.

To prevent more bloodshed and avoid becoming the next targets on the killer's list, Finn and Munoz will have to bury their complicated past, trust each other, and come face-to-face with painful secrets that could destroy them both.
Clark's extra dark, Training Day (2001) dark, slice of Los Angeles where the cops may be dirty, but the streets are choked with dangerous criminals leaps back a generation to connect the backstory of private investigator Trevor Finnegan to the framing of an innocent man for the murder of a police officer.
The year is 2016, based on the subtle historical references, and the setting is Los Angeles. Disgraced (possibly wrongly) ex-LAPD detective Trevor Finnegan, now a private investigator for a Los Angeles attorney, draws an assignment to surveil two LAPD narcotics detectives. But the attorney won't tell him why. One detective was Finnegan's former partner when he was in LAPD, Sally Munoz. The assignment ends with Finnegan witnessing someone shooting the detectives at Venice Beach, wounding Munoz and killing her partner. Finnegan pursues the shooter on foot, but the suspect gets away on a motorcycle after shooting at him. Not wanting his ex-partner to learn he was surveilling her and her partner, Finnegan leaves the scene before the cops arrive to avoid getting questioned. But later, Munoz shows up at his door demanding to know whether Finnegan saw the shooter, playing their former partnership card. "You were once blue like me." Finnegan tells her part of the story, careful to hide the real reason he was present at Venice Beach when the shooting happened. Munoz tells him she knows who was behind the killing of her partner and asks him to go with her to Malibu to confront the person. Finnegan is reluctant, especially after realizing his ex-partner is on the ragged edge of losing control. But Munoz persuades him. Once they arrive and Munoz confronts the woman, a drug dealer, about the shooting, Finnegan realizes his former partner is keeping something from him. That, along with her erratic behavior, makes him feel even more uneasy about trying to help her. But old loyalties die hard. He can't bring himself to turn his back on her. While Finnegan struggles with the dilemma, another murder happens. This time someone murders an old family friend who is almost a second father to Finnegan, an FBI agent who was an LAPD cop at the same time as Trevor's father. Suspecting the person who murdered his friend is the same person who killed Munoz's partner, Trevor becomes more motivated to help her find the killer. But when the killer calls Finnegan and warns him off, threatening to kill him if he continues with the investigation, it becomes a question of whether he will survive long enough to find the killer. Running in the background of the main plot is an intriguing subplot involving the circumstances that forced Finnegan out of the LAPD under a cloud, and the person responsible for it. When I reached that point in the novel, I regretted a little not reading Under Color of Law (2021), the first book in the series before reading this one to learn more about Finnegan's backstory. Still, Clark gives enough details about the past in this second book that I never felt lost.
I found much to like about this book. First, it's hard-boiled all the way in the tradition of Hammett and Chandler. It ticks all the boxes with deeply flawed characters, a detective who is emotionally involved in the investigation, the harsh realities of life in a big city setting that isn't only a backdrop, but where these realities bleed into the case and becoming a major part of the story, and a corrupt world that allowed the crimes to happen in the first place. Clark uses his crime investigation plot as a vehicle for examining issues of racism, classism, and violence in the city, the bigger issues of corruption that can't be solved with the end of the story.
Clark has a very direct and explicit style of writing, which I found smooth as glass and enjoyed. The plot was both imaginative and ambitious. Trevor Finnegan is an interesting and appealing main character, easy to feel empathy for. But besides Finnegan, Clark offers us a host of other true-to-life, well-drawn, interesting characters, both good and bad.
An extra dark slice of Los Angeles describes Blue Like Me by Aaron Philip Clark. It's a gripping and intense crime thriller, and a completely unnuanced hard-boiled parable on policing and corrupt cops.
I received an advance copy of the book from the publisher via NetGalley used for this review, which represents my honest opinions.