Flawless plotting and impeccable characterization describe A Heart Full of Headstones by Ian Rankin, the new Inspector Rebus novel.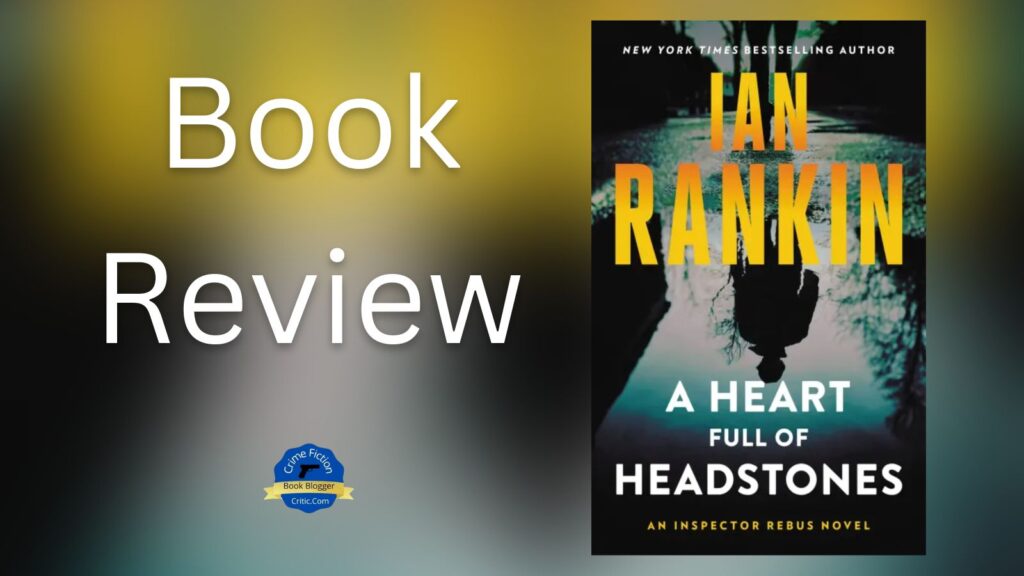 Scottish author Ian Rankin has many series and standalone books under his belt and I've intended to read his books for years. However, for reasons unknown, A Heart Full of Headstones, featuring his most famous character, John Rebus, is the first of Rankin's titles to appear on my to be read pile. I prefer to read books in a series in order. But I kept hearing about this one, probably because it's the first Rebus novel since 2020 and highly anticipated. So when I saw advanced review copies were available, I immediately requested the book. Happily, the publisher approved the request. About a dozen pages in, I fully realized what I've been missing by not reading Ian Rankin until now. He is indeed an astonishingly good writer. Sadly, I can't say how this Rebus novel stacks up against the past ones. All I can say is this one is so good that I intend to find out. And this time, sooner rather than later.

A Heart Full of Headstones (An Inspector Rebus Novel #24)
by Ian Rankin
Published by Little, Brown
on October 18, 2022
Source: Publisher via NetGalley
Genres(s) Mystery & Thriller, Mystery & Detective, Private Investigators
ISBN 978-0-316-47363-7
353 pages
John Rebus stands accused: on trial for a crime that could put him behind bars for the rest of his life.

But what drove a good man to cross the line?

Detective Inspector Siobhan Clarke may well find out. Clarke is tasked with the city's most explosive case in years, an infamous cop, at the center of decades of misconduct, has gone missing. Finding him will expose not only her superiors, but her mentor John Rebus. And Rebus himself may not have her own interests at heart, as the repayment of a past debt places him in the crosshairs of both crime lords and his police brethren.

One way or another, a reckoning is coming – and John Rebus may be hearing the call for last orders…

Rankin opens with a prologue that shouldn't have been surprising given the blurb. Had I paid more attention to the summary, I might have realized what was going to happen. Or at least maybe happen. Instead, it shocked me a bit that the book began with Rebus in the dock in a courtroom on trial and facing prison. It shocked me a little initially since I knew he was a retired police detective. But, of course, the opening grabbed my attention and made me want to know more. Rankin then takes us back in time in the first chapter to the beginning of the story that plays out during the rest of the novel. From there, I couldn't put the book down.
There are several related story lines, which make the plot complex, but the author expertly weaves them together in due time and it all makes sense. Rankin provides all the back-stories and histories we'll need to understand the plot, jogging the memories of dedicated Rebus fans while adroitly bringing new readers like me up to speed. Even without ever reading another Rebus novel, I never felt lost. He also includes a spot-on rendering of the pandemic experience for both the individual characters and the country. The effects of the pandemic echo through the story, but always in subtle ways. This contributes to helping us feel the story is real life with all its randomness and difficulties.
I found John Rebus an intensely interesting character. By this time, he is a long since retired Edinburgh police detective inspector, but still prowls the grittiest sides of the city as a private detective. And now his past is coming back to haunt him. He is an utterly believable mixture of foibles and messy contours, a flawed, cynical former policeman, often gruff but with a wry sense of humor. He has a strong platonic friendship with his former colleague and protégé, Detective Inspector Siobhan Clarke, another intriguing principal character in the book and series. And she is the driving force in the narrative as she leads the investigation into a case that eventually overlaps with a private inquiry Rebus takes on, which makes him a target of both some hardened criminals and his former police colleagues.
A Heart Full of Headstones is a dark, gritty, and engrossing tale that fans of crime thrillers will enjoy. I enjoyed it so much I've already purchased the first book in the John Rebus series so that I can start at the beginning with the Rebus character.
I received a copy of the book from the publisher via NetGalley used for this review, which represents my own honest opinions.