These Silent Woods by Kimi Cunningham Grant—brilliantly plotted thriller with pulse-pounding suspense.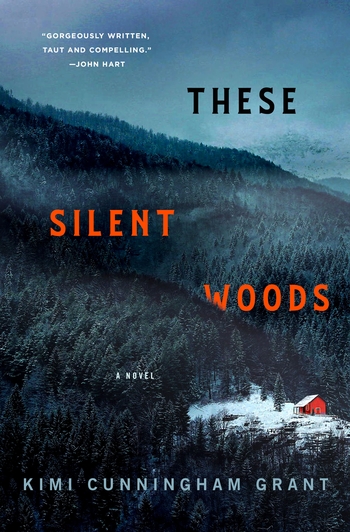 A father and daughter living in the remote Appalachian mountains must reckon with the ghosts of their past in Kimi Cunningham Grant's These Silent Woods, a mesmerizing novel of suspense.

No electricity, no family, no connection to the outside world.

For eight years, Cooper and his young daughter, Finch, have lived in isolation in a remote cabin in the northern Appalachian woods. And that's exactly the way Cooper wants it, because he's got a lot to hide. Finch has been raised on the books filling the cabin's shelves and the beautiful but brutal code of life in the wilderness. But she's starting to push back against the sheltered life Cooper has created for her—and he's still haunted by the painful truth of what it took to get them there.

The only people who know they exist are Scotland, an overly friendly hermit with murky intentions, and Cooper's old friend, Jake, who visits each winter to bring them food and supplies. But this year, Jake doesn't show up, setting off an irreversible chain of events that reveals just how precarious their situation really is. Suddenly, the boundaries of their safe haven have blurred—and when a stranger wanders into their woods, Finch's growing obsession with her could put them all in danger. When a shocking disappearance threatens to upend the only life Finch has ever known, Cooper is forced to decide whether to keep hiding—or finally face the sins of his past.

Vividly atmospheric and masterfully tense, These Silent Woods is a poignant story of survival, sacrifice, and how far a father will go when faced with losing it all.

These Silent Woods by Kimi Cunningham Grant is an extraordinarily compelling story, tightly plotted, and brilliantly told. It will suck readers in from the first pages. I couldn't put it down until reaching the unexpected, emotion-packed conclusion. The plot entices readers to rush through the book to find out all the who's, what's, and why's. These Silent Woods is magnificently done in a way that won't soon be forgotten. It's a taut, suspenseful thriller that drags readers head first into the story.
Inside this must read thriller, readers meet the main character, "Cooper," an Army veteran suffering from PTSD who has raised his eight-year-old daughter "Finch" in a cabin in a rugged, remote wooded area since the death of her mother, Cindy. When Cindy died, her parents attempted to take custody of Finch, forcing Cooper to "kidnap" his daughter from them and flee to the off-the-grid mountain cabin owned by Jake, an old Army buddy. There they live a simple life together in hiding under assumed names with little contact with the outside world. As the story unfolds, readers quickly develop sympathy for Cooper. It seems he has never caught a single break. He suffers panic attacks because of PTSD not to mention guilt over something that happened during his time in Afghanistan. He is an honorable but wanted man only because he tried to do what he thought was best for his daughter. From the moment readers enter the lives of Copper and Finch there is an undercurrent of dread that they will soon be discovered, that Cooper will go to jail, and will lose Finch forever. There are plenty of unexpected twists and turns that keep readers on the edge of their seats. Kimi Cunningham Grant is a talented writer who brings her interesting characters vividly to life.
These Silent Woods is one of the most exciting, heart-pounding, and suspenseful novels I have read this year. I highly recommend this book to all fans of suspense thrillers.
I received an advance copy of the book for the purposes of this review from the publisher via NetGalley.