"Because there's a conflict in every human heart between the rational and the irrational, between good and evil. The good does not always triumph. Sometimes the dark side overcomes what Lincoln called the better angels of our nature."
— General Corman, the film Apocalypse Now (1979)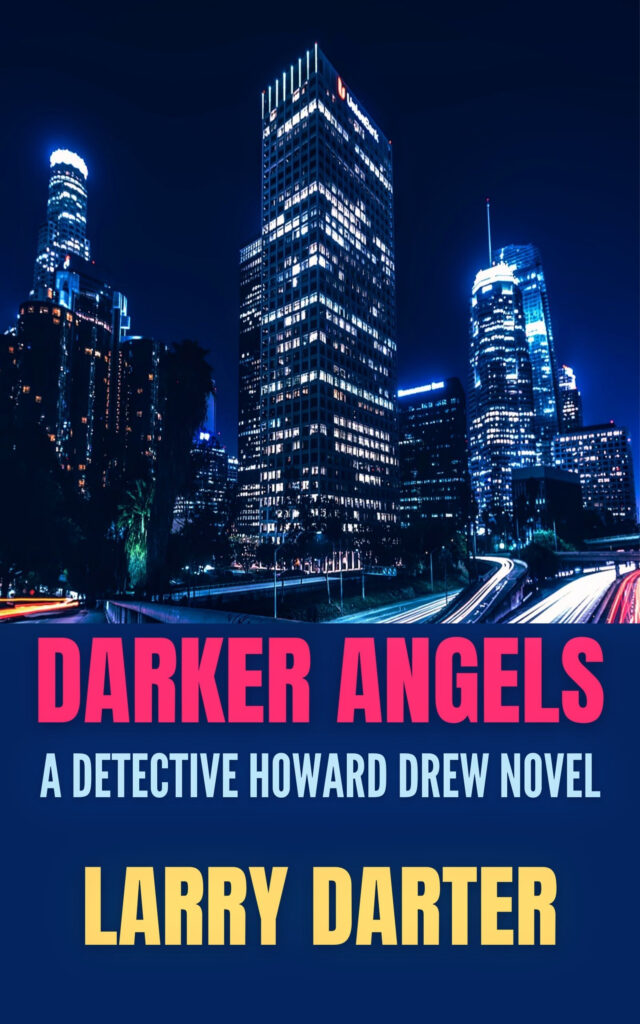 DARKER ANGELS, (Howard Drew Series #3)
by Larry Darter
Publication Date: March 22, 2022
by Fedora Press
Genres: Police Procedurals, Crime Fiction
ISBN 979-8-9850565-9-4
226 Pages
Howard Drew, an unrelenting LAPD homicide detective assigned to the Open Unsolved Unit, investigates the murders of victims long dead. He prowls moral fault lines and assumes the perspectives of his victims and their killers. Drew waits, poised to listen when guilty people divulge information and tired people fold and betray their secrets. Drew also listens to the chorus of forgotten voices and speaks for them because the collective dead demand it.
In 2000, a friend discovered Anastasia Stepanchikov, a pretty 29-year-old prostitute from the Ukraine, beaten and shot to death inside her luxury Studio City apartment. Police speculated at the time that Russian organized crime may have been involved. Despite an exhaustive investigation by detectives of LAPD's Homicide Special Section, they never identified the killer or brought them to justice. The leads dried up, and the case went cold.
Twenty-one years later, Detective Howard Drew and his partner in the Robbery-Homicide Division's Open-Unsolved Unit reopen the investigation when they receive a DNA cold hit. Unsolved homicides tend to remain unsolved—twenty-one-year-old riddles deepen with the passage of time, the death and disappearance of witnesses, and the blurring of consciousness.
To find the killer, Drew and his partner must dust off the murder book and absorb every detail of the original investigation with an eye towards solving the cold case and assessing the original investigator's failure to do so. The detectives who worked the case all those years ago seem to have done a decent job, but something doesn't fit. Circumstances raise the stakes when Drew comes to realize he has taken on a politically charged case when the DNA match points to a powerful figure in Los Angeles. The original investigators may have missed a clue, or worse yet, turned a blind eye back in 2000 that could have led them to the killer and cleared the case twenty-one years earlier.
LARRY DARTER is an American writer of fiction, primarily of the mystery & detective and police procedural genres. He is best known for the nine novels written about the fictional Los Angeles private detective Malone. Darter has also written three novels based on the fictional character T. J. O'Sullivan, a female New Zealand ex-pat, working as a private investigator in Honolulu, Hawaii, three police procedural novels featuring the fictional character LAPD homicide detective Howard Drew, and two novels based on the fictional Honolulu private eye, Rick Bishop.
Website: https://www.larrydarter.com