In the taut, fast-paced thriller Red as Blood, a smart, accomplished financial investigator uncovers dodgy financial transactions in the accounts of a local entrepreneur whose wife has gone missing.
In Lilja Sigurðardóttir's pulse-pounding, twisty thriller Red as Blood, when a wealthy entrepreneur arrives home from work to find his wife missing and a ransom note, Áróra Jónsdóttir and Icelandic detective Daníel and his team get drawn into a web of illicit affairs, family dysfunction, and dodgy financial dealings while investigating an abduction.
Red as Blood (An Áróra Investigation #2)
Translated by Quentin Bates
Published by Orenda Books
on October 13, 2022
Source: Purchased
Genre(s): International Mystery & Crime, Thrillers & Suspense
ISBN 9781914585333 (eBook)
276 pages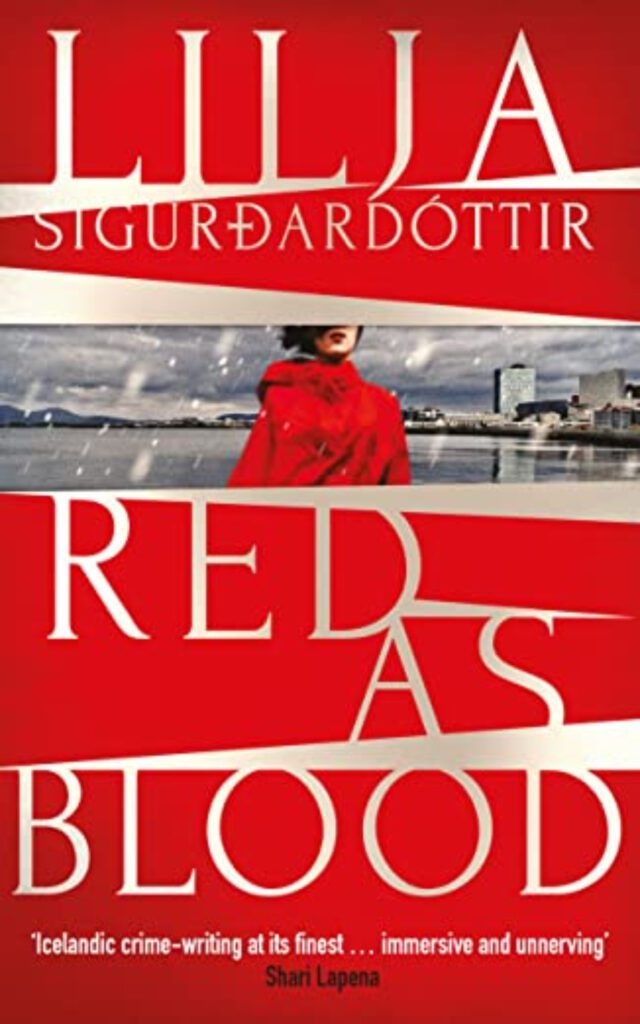 From the publisher

Áróra becomes involved in the search for an Icelandic woman who disappeared from her home while making dinner, as she continues to hunt for her missing sister. The second breathtaking instalment in the chilling, addictive An Áróra Investigation series…

When entrepreneur Flosi arrives home for dinner one night, he discovers that his house has been ransacked, and his wife Gudrun missing. A letter on the kitchen table confirms that she has been kidnapped. If Flosi doesn't agree to pay an enormous ransom, Gudrun will be killed.

Forbidden from contacting the police, he gets in touch with Áróra, who specialises in finding hidden assets, and she, alongside her detective friend Daniel, try to get to the bottom of the case without anyone catching on.

Meanwhile, Áróra and Daniel continue the puzzling, devastating search for Áróra's sister Ísafold, who disappeared without trace. As fog descends, in a cold and rainy Icelandic autumn, the investigation becomes increasingly dangerous, and confusing.

Chilling, twisty and unbearably tense, Red as Blood is the second instalment in the riveting, addictive An Áróra Investigation series, and everything is at stake…

Financial investigator, Áróra Jónsdóttir, is still in Iceland searching for her missing sister Ísafold, now presumed dead, when her friend and colleague Michael calls from Scotland with a strange favor to ask.
We pick up where we left off at the end of Cold As Hell, and Áróra Jónsdóttir is still in Iceland searching for her missing sister, Ísafold, though now she accepts the reality she is looking to recover a body. She wants closure for her mother, but also for herself because she still feels she had let her sister down.
Áróra is out searching for her sister's remains in remote and foreboding lava fields when she takes a call from her friend and colleague, Michael. This time, instead of giving her an assignment, Michael asks a personal favor. Then we're straight into the action as Áróra goes to visit Michael's client, Flosi. He had arrived home in the evening to find his wife missing, the kitchen in disarray, and a ransom note on the counter. He'd phoned Michael with his story, telling him the note warned about involving the police, so Michael promised to send Áróra to offer support. Sigurðardóttir easily gets us up to speed, so readers picking up this book without having read the first in the series won't feel lost.
After Flosi relates his story to Áróra and shows her the ransom note, she understands she is out of her depth as far as investigating a kidnapping. So, after overcoming Flosi's objections, she convinces him to go with her to meet a police detective she knows for advice. That leads to her reunion with Daníel, the detective working on her sister's disappearance, though that investigation has hit a dead end. During the meeting, Daníel persuades Flosi to let the police take over the investigation of his wife's abduction, promising to keep their involvement secret in case the kidnappers are watching. I very much enjoyed this. While we learned in the first book that Áróra is a clever and capable financial investigator, investigating a kidnapping isn't within her skill set, so the story has more authenticity with the police handling the abduction. It also frees up Áróra to do what she does, investigate an associated financial angle.
As the story unfolds, we learn more about Flosi, his adult daughter, the state of his marriage, and the backstories of the other major players Sigurðardóttir introduces us to. Soon we have no shortage of suspects, with motives for involvement in the disappearance of Flosi's wife. And Daníel and his team methodically sift through them as they work toward understanding the circumstances of the abduction, hoping to identify the perpetrators and getting Flosi's wife, Guðrún, back unharmed.
As usual, sensory descriptions of the Icelandic scenery and climate set the mood in many scenes. When we first meet Áróra as the book opens, she is driving along rough tracks through ominous, isolated lava fields searching for her sister's body, and the scene seems a foreboding omen for sinister events to come. Filtered through the lens of Áróra's thoughts and perspectives of the events feels both jarring and frightening and helps build suspense from the start.
In its reveal of the character's words, thoughts, and deeds, whether intended by the author or not, the book says much about contemporary relationships between intimate partners and husbands and wives. Relationships marked by deceit and questionable ethics and decisions holding wide-ranging, often painful consequences. This is the theme I found most realistic and relatable in the book. It some ways the relationships described left me feeling somewhat melancholy. Has our society become one where individuals are so selfish and obsessed with seeking personal gratification that we see others, even intimate partners, as nothing more than a means of satisfying our own desires for pleasure? Do their hopes, needs, and desires mean so little to us we use and then readily discard them when they no longer serve our self-interested purposes? It all seems so mercenary, and in the end, it seems the way people often do relationships these days robs them of experiencing any authentic, much less long-term happiness. The relational conflicts as much as anything propelled the novel.
The gloomy bits aside, I enjoyed the book and savored the beautifully rendered prose although I devoured Red as Blood in a single sitting. Kudos here to translator extraordinaire Quentin Bates for his usual masterful job of bringing us the text in English. Sigurðardóttir skillfully combines an endearingly flawed lead, realistic, relatable supporting characters, and jaw-dropping twists to produce an intelligently plotted, fast-paced thriller. She also ends the book with an interesting turn of events, so I'm certainly keen to see what comes next.