Her Deadly Game by Robert Dugoni, a propulsive, mind-bending legal thriller that is razor sharp.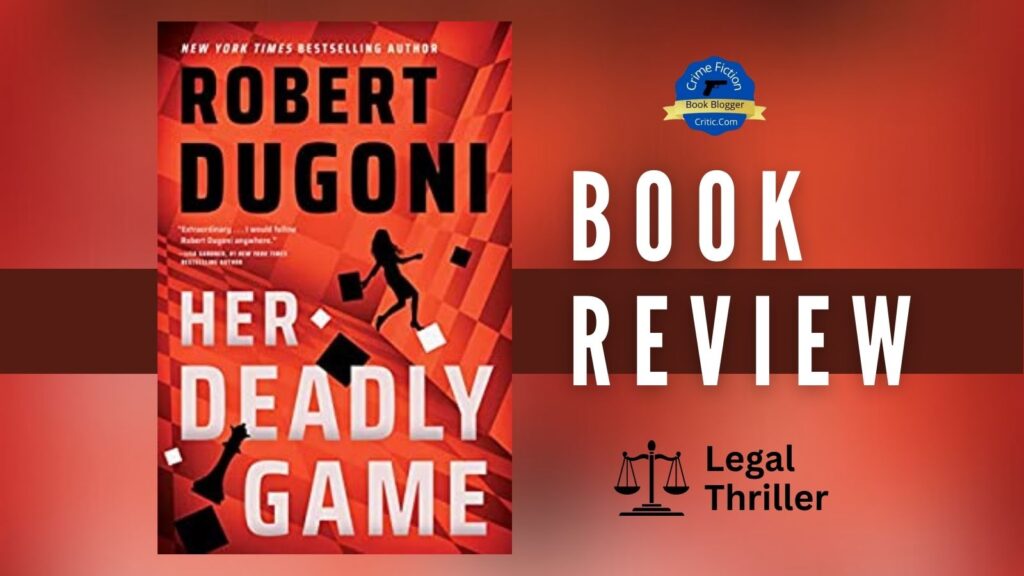 A defense attorney is prepared to play. But is she a pawn in a master's deadly match? A twisting novel of suspense by New York Times bestselling author Robert Dugoni.
Keera Duggan was building a solid reputation as a Seattle prosecutor, until her romantic relationship with a senior colleague ended badly. For the competitive former chess prodigy, returning to her family's failing criminal defense law firm to work for her father is the best shot she has. With the right moves, she hopes to restore the family's reputation, her relationship with her father, and her career.
Keera's chance to play in the big leagues comes when she's retained by Vince LaRussa, an investment adviser accused of murdering his wealthy wife. There's little hard evidence against him, but considering the couple's impending and potentially nasty divorce, LaRussa faces life in prison. The prosecutor is equally challenging: Miller Ambrose, Keera's former lover, who's eager to destroy her in court on her first homicide defense.
As Keera and her team follow the evidence, they uncover a complicated and deadly game that's more than Keera bargained for. When shocking information turns the case upside down, Keera must decide between her duty to her client, her family's legacy, and her own future.
Thomas & Mercer (2003)
Robert Dugoni | Pub Date 28 Mar 2023 | ISBN 9781662500190 | 396 pages
As a rule, I don't read legal thrillers as much as I once did and had never read Robert Dugoni until I picked up Her Deadly Game. I saw the book was available for review, was intrigued by the book summary, and requested it. And I'm so pleased I did. I think the epigraph Dugoni uses at the beginning and mentions again in the narrative fits the novel perfectly.
"The truth is rarely pure and never simple." ─ Oscar Wilde, The Importance of Being Earnest
Keera Duggan, the main character, is a young Seattle trial lawyer, a former prosecutor now working as a defense attorney in her father Patrick "Patsy" Duggan's law firm. Keera is struggling to get out of her father's shadow and to make a name for herself as a lawyer. Patsy, nicknamed the Irish Brawler, earned the moniker because he had "knocked out" so many prosecutors in the courtroom using not only his razor-sharp legal mind, but every other inventive tactic he could think of. Finally, when someone murders the disabled wife of a prominent and rich Seattle wealth manager, Vincent LaRussa, and the authorities zero in on him as the prime suspect, Keera gets her chance. LaRussa hires her to defend him when the Seattle police arrest him for murdering his wife. Keera Duggan, also a keen legal mind, proves she is her father's daughter, quite a legal brawler in her own right. She provides LaRussa the vigorous defense he's paying her for. Keera undergoes several transitions during the buildup to the trial and then the trial itself. First, she isn't sure whether her client is innocent, as he claims, and doesn't care. Then, she feels certain LaRussa is innocent of his wife's murder. But as the trial unfolds, Keera has reason to feel there is something sinister about Vincent LaRussa that may or may not involve his wife's murder.
There was so much I liked about this book, but it was Dugoni's direct, concise writing style that truly made the story sing for me. Dugoni didn't offer any fluff. It seems each word and each sentence play an integral part in his narrative. Another thing I enjoyed was that Dugoni offers an important clue early in the book. But reminiscent of a stage magician, he cleverly pulls the reader's attention away from the revelation by presenting the reader with many other bright, shiny objects that cause the important clue to be all but forgotten. Then Dugoni springs the trap much deeper in the story, creating a most unexpected twist.
Robert Dugoni's writing style proves the truth that less is often more in descriptive writing. He wasted no time with extensive descriptions, yet provided enough detail to allow my mind to fill in any blanks. That allowed me to visualize each particular character and setting with ease. I found this especially effective with his characterization and had visual images in my head of each of the principal characters.
Something I enjoyed when I used to read more legal thrillers was that the better written ones, though fiction, offered much insight into the law, lawyers, and the courts and made me think. That is another strength of this book. It's an unflinching look at the American criminal justice system, particularly the adversarial legal system used in our common law country where two advocates, a prosecutor and defense attorney, represent their parties' case or position before an impartial judge or jury. For all its positives, it's also easy to see the flaws of the system in that Americans often get the amount of "justice" they can pay for. In the case presented here, we have a wealthy defendant claiming innocence paying six-hundred-dollars per billable hour for a highly competent and resourceful defense attorney. That immediately made me think about how much justice an average person, perhaps relying on an overworked, underpaid public defender, might get in a similar situation.
Fans of legal thrillers and crime thrillers will enjoy this tense, pacy page-turner. It begins with a bang and doesn't let up until the gripping and dramatic conclusion.
I received an advance copy of the book from the publisher via NetGalley for review purposes.
Book rating: ★★★★★
Buy a Copy of Her Deadly Game