Broken Glass by Alexander Hartung, a cleverly plotted crime thriller with a cynical, tough detective lead.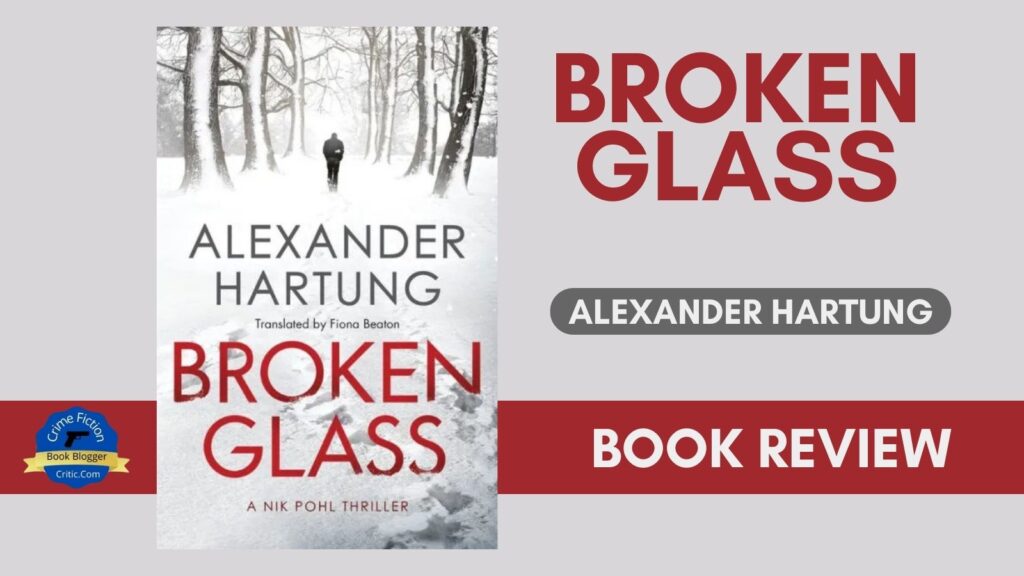 One murdered, one missing. Both are almost identical.
Detective Nik Pohl has seen every shade of darkness in his career. Not used to playing by the rules, he finds himself frozen out by his superiors. What's worse, now he's being blackmailed by a shadowy businessman into investigating a seemingly crimeless disappearance.
A young woman, Viola, left her home months ago, leaving a letter to her parents saying she wouldn't be coming back. With a little digging Nik discovers the case of an almost identical-looking woman, who went missing in similar circumstances. There's one important difference: that woman is dead. Viola may still be alive… but perhaps not for much longer.
When Nik is viciously attacked, it becomes clear that whoever is behind Viola's disappearance has some high-level connections, and they will stop at nothing to shut him down. But he's in too deep and the clock is ticking. He has to find Viola, and her captors, before it's too late.
Thomas & Mercer (2019)
Categories Thriller & Suspense, Mystery & Detective, Police Procedural
Alexander Hartung | Pub Date Nov 01, 2019 | ISBN 9781542093484 | 255 Pages | Translated by Fiona Beaton
Munich Detective Inspector Nik Pohl, an unbecoming mixture of outward indifference and inward cynicism, is only looking to be left alone to drink his beer. What he gets is a partnership with a secretive computer expert named Jon who blackmails Pohl into re-opening an investigation into a missing woman, a case Nik's colleagues closed after determining the woman had disappeared voluntarily. Jon insists Pohl investigate further until he feels satisfied no foul play was involved.
Reluctantly, Pohl gets the case files on the woman from a highly placed police colleague and works the case off the books. After the same colleague abducts Pohl and tries to kill him, after committing another murder in Nik's presence, Pohl realizes Jon's suspicions are well founded. After escaping his risky predicament by killing his colleague, Pohl digs deeper in the young woman's disappearance, aided by Jon, who hacks the police computer system. The detective soon discovers another young woman who disappeared under almost identical circumstances, but she turned up dead. But what is the connection? After an illegal, late night exhumation of the woman's corpse, whose death authorities had ruled accidental, Jon and Nik arrange a second autopsy by an eccentric pathologist who discovers the cause of death was murder by blunt force trauma.
As Pohl continues chasing up leads, he attracts the attention of some powerful and dangerous people who are intent on shutting down his informal investigation, preferably by killing him. The deeper Pohl digs, the more convinced he becomes he is up against a conspiracy that includes corruption at the highest levels. The question becomes, can he find out the truth and solve the cases before his powerful enemies eliminate him first?
Nik Pohl is an intriguing character, almost a latter day German version of the iconic Chandler character, Philip Marlowe. Once a highly regarded, decorated policeman, after the trauma of a past unsolved case that still haunts him, Pohl turned into a shadow of his former self and had only gone through the motions at work until he met Jon. Despite the blackmail, Jon forces Nik to recapture his enthusiasm for investigations and he doggedly perseveres, even when his own life hangs in the balance.
Hartung spins a clever, slow burning suspense yarn with plenty of twists to keep us guessing as he raises the tension throughout. Besides Pohl, there is a host of other colorful and intriguing characters. One of those is Nik's sister Mira, who appears several times throughout the book, and provides the last twist in the story that I never saw coming. Broken Glass is suitable for fans of crime thrillers and mysteries, especially those who enjoy international crime tales.
Book rating: ★★★★
Get Your Copy of Broken Glass on